First, I have news: I am excited to share that as a complement to my You Pivot™ Program, I have engaged with the University of Chicago's Leadership & Society Initiative as a founding instructor and executive life coach.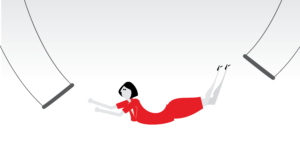 Every now and then, the subject of fun comes up in a meeting with a client, with my client saying something like, "I am not having fun," or "I don't allow myself to have fun," or, "I don't have time for fun."
Adult life is often a whirlwind of responsibilities, deadlines, and routines, leaving little room for the joys of unadulterated fun. Yet healthy adults recognize the positive mindset that results from having fun is a necessity for mental and emotional well-being.
Recognizing this, I frequently recommend The Book of Joy by Desmond Tutu and Dalai Lama. One of my many learnings from these two wise men is that fun can mean different things to different people. The key is how we feel when we are doing it.
My own story about having fun came up in a recent conversation with a good friend who said, "My husband keeps telling me I need to spend more time playing."
Her comment resonated with me, as my husband and some of my male friends have said the same to me.
While neither of us considers ourselves "playful," we both like to have fun. While our definition of fun doesn't include going to the playground or even adult playgrounds like golf courses, we agreed that our time together in conversation is something we both describe as fun, as are our trips to exotic places and visits to art museums.
This conversation made me wonder,
Do men and women define the words play and fun differently to themselves?
Or is play an extrovert term rather than a gendered term?
Is one person's play or fun, another's work? For example, an introverted, detail-oriented person might find it fun to analyze spreadsheets, while an extrovert would describe this as work.