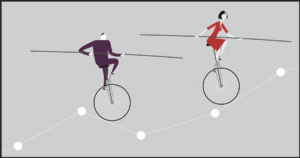 I've had several conversations lately with clients and colleagues about life stages. In 1977, James Taylor wrote The Secret o' Life. The full lyrics are worth a read, and here's an excerpt:
The secret of life is enjoying the passage of time.
Any fool can do it,
There ain't nothing to it.
Nobody knows how we got
To the top of the hill.
But since we're on our way down,
We might as well enjoy the ride.
Isn't it a lovely ride?
Sliding down, gliding down,
Try not to try too hard,
It's just a lovely ride.
I am struck by Taylor's wisdom at the age of 27 when he wrote this, and the lyrics remind me of a personal experience with an older man years later.
I was sitting on a bench at the old Union Station. The man sat down next to me, and we engaged in conversation. I asked him where he was headed, and he replied with glee, "San Francisco!"
"Wow," I said, "that is a long way to go on the train." His reply: "There is as much fun in getting there as there is in being there."
Taylor's lyrics and the words of the man on the bench have stayed with me, and I often think of their words in these situations:
When I am too focused on getting to the outcome
When it's time to pause
When it's time to remember to be in the moment
As I embark on a trip to Japan in May, I plan to practice the in-the-moment secret, beginning with a hiatus from Sunday Stories. I will publish my usual end-of-month quote next week, and I will see you in June