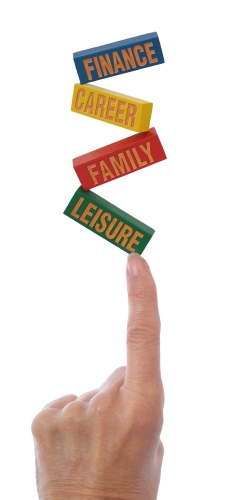 I began this series as a tribute to my friend, Marsh Carter, whose leadership has been an inspiration to me for at least 25 of the 45+ years covered in his View of Leadership. As I have written these blogs each week, using Marsh's topic lines, it has been interesting to me how relevant Marsh's large company experience is to the entrepreneurs  I work with each day.
For the final post in this series, I decided it is fitting that Marsh author the post, drawing this time from his experience rather than mine. 
Leadership View #13:  Balance your life – 3 legged stool analogy (balance between work, family and a strong outside interest for yourself)
Many people we've all known, including ourselves at times, have a tendency to regard our careers or jobs as the most important aspects of our life—this is especially true the last few years where hand held devices link us 24/7 to the office, our bosses, our employees and coworkers.  It may be more necessary now than ever before to try to balance our lives—that is, maintain a balance between our work, our families, our religion, and for our own mental health – an outside interest that treats us as an individual.
Think of your life as a three or four legged stool….when one leg is gone it won't balance and falls over. We can't take the pressures of work and family and go back and forth between them alone….that's what the third leg, a completely different activity that is our individual interest alone comes in. Your third leg may be jogging, sailing, running in marathons, coaching a child's sport, skydiving, piloting airplanes, pottery making, yoga, stamp or coin collecting…..whatever you enjoy that's separate from work and family.
At the height of World War 2 when the pressures were immense, President Roosevelt would escape to his stamp collection, for an hour or so doing something completely different. General George Marshall would ride horseback many mornings to relieve the pressures of his job building and leading an Army of 8 million men and women.
Think about it—
How do you personally, if only for a short period of time, balance the pressures of work and family?
What is your third stool leg to balance your life?