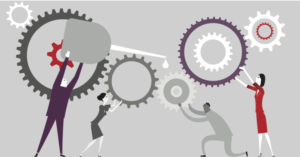 The first nationally recognized Labor Day celebration was in 1894. The AFL claimed this day with a street parade sending a message of "the strength and esprit de corps of the trade and labor organizations."
According to the BLS, union membership in the U.S. peaked in 1954 at almost 35%. By 1983, the share of U.S. workers who belonged to a union had fallen to 20.1%, and by 2022, membership had dropped to 10.1% of U.S. workers, declining from 10.3% in 2021. And 33% of union members are public employees.
Yet, nearly every day, we read about another vote for unionization by workers in well-known service companies.
Is the press giving us an unbalanced view, or is there a trend yet to emerge in the data?
Economists and human resource professionals tell us it's the latter. Economists say prices are increasing faster than wages, and people are organizing because they can't keep up. People often feel that being part of something gives them agency. Human resource professionals say that a lack of effective two-way communication leads to a lack of trust, leading to organizing.
Regardless of whether unionization is a trend, Labor Day is still with us. We celebrate it as the mark of the end of summer and the beginning of autumn. As with all transitions, it's a time for reflection. In this case, it is an opportunity to reflect on how we show up.
As a leader, what can I do tomorrow to learn what drives each person on my team and create an environment where each person can pursue their passion while contributing to the team's success?
As a follower, what can I do tomorrow to add additional value to the success of our company while being true to what matters to me?