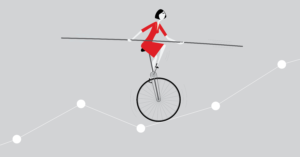 Should I stay or should I go? This is often the question facing clients participating in my You Pivot™ Program.
The answer, of course, is it depends.
A friend of mine called me recently with this exact question. He is a senior executive in his late sixties, planning to work until 70. This week the company offered him and several colleagues an exit package. On the surface, at least, the exit appears optional. Should I stay or should I go, he wonders.
A long-time client of mine, who founded a company 20+ years ago, sold to private equity, and she stayed on. The PE firm is hands-off, but it's not the same. She created something unique and had fun when it was small. She isn't having fun now but wonders what she would do instead.
A new client has been a professional manager for many years. Recently he was promoted to a senior manager role which he thought would be exciting and different, yet it feels so much the same. What to do?
These are all today stories. In my experience, the answer to the "should I stay or should I go" question begins with identifying what matters most, and then, once you are clear about what matters, writing your tomorrow story. The writing of the tomorrow story is most helpful in deciding and navigating any transition that results. 
Sometimes the decision is to stay, and the transition is to come to a place of acceptance; sometimes, the decision is to go, and the transition is to navigate to the next destination.