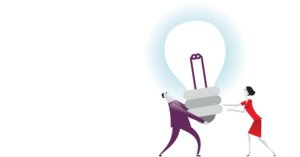 The first nationally recognized Labor Day celebration was in 1894. The AFL claimed this day with a street parade sending a message of "the strength and esprit de corps of the trade and labor organizations."
Yet, before the pandemic and what we perceive as the consequent labor shortages, except in specific industries like construction, unions had declined. Today unionization is growing in companies like Apple, with a reputation for being employee-centric.
While unions certainly have always had their place, especially in the safety arena, I wonder what else is driving the change we see today?
Economists say inflation is the cause; prices are going up faster than wages, and people are organizing because they can't keep up. People often feel that being part of something gives them agency. Human resource professionals say that a lack of effective two-way communication leads to a lack of trust, leading to organizing.
Whatever the reasons for the change, as we celebrate this first post-pandemic (yes, I know it's still with us) Labor Day, that marks the end of summer and the beginning of autumn, might we also view it as a beginning for how we show up at work and ask ourselves:
As a leader, what can I do tomorrow to learn what drives each person on my team and create an environment where each person can pursue their individual passion while contributing to the success of the team?
As a follower, what can I do tomorrow to add additional value to the success of our company while being true to what matters to me?