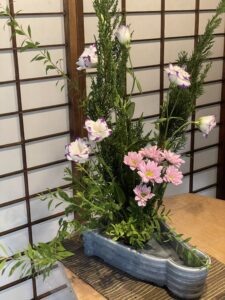 During our travels in Japan, we had the privilege of spending time with a Zen Priest. He talked to us about "the way" of Buddhist teachings, including the tea ceremony, ikebana, and calligraphy. Later on, we were fortunate to participate in a tea ceremony and ikebana, and it was through ikebana that I began to understand.
Ikebana is commonly thought of as the art of Japanese flower arranging, and as with most things in Japan, there is meaning beyond what you see.
In traditional Western flower arranging, the flowers face the viewer and are fitted tightly into the vase. 
In the way of ikebana, our teacher told us, we place the flowers in the container in a way that resembles how they grow. And, most importantly, she said, "Remember the blank spaces are as important as the flowers." She then showed us how our creations became three-dimensional when we added blank space.
The term ikebana comes from combining two words,
ikeru– life; and hana – flower.
My learning — ikebana is about using flowers to experience a life lesson: blank spaces in our words, deeds, and lives enhance and add dimension to our experience.